Frequently Asked Questions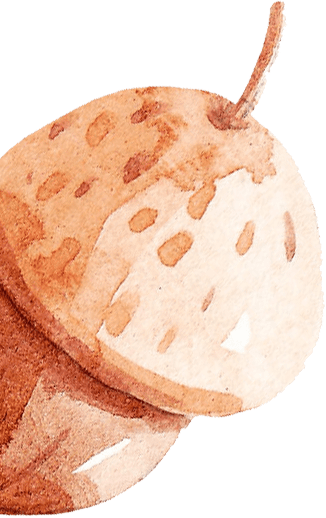 Infant & Toddler Playgroup Programmes
Children of what age can attend Victoria Playpark Playgroup?
Children aged 8-36 months.
How do I enrol my child?
Please click "Enrol Now" to complete an online application form.
What is the average playgroup class size?
Each class has no more than 9 children.
Are Victoria Playpark teachers experienced professionals?
All of our teachers are native speakers of English, Putonghua or Cantonese and are experienced early childhood educators.
Do parents need to accompany their children?
Every child must be accompanied by an adult.
What does Victoria Playpark offer?
Victoria Playpark (VPP) is a professional early childhood development centre affiliated with Victoria Educational Organisation that offers playgroup programmes which immerse your child in the English, Putonghua and Cantonese languages.  Our play-based environment and curriculum and expert parenting approach support children to become curious, confident and well-balanced.
What are the playgroup programme schedules and fees?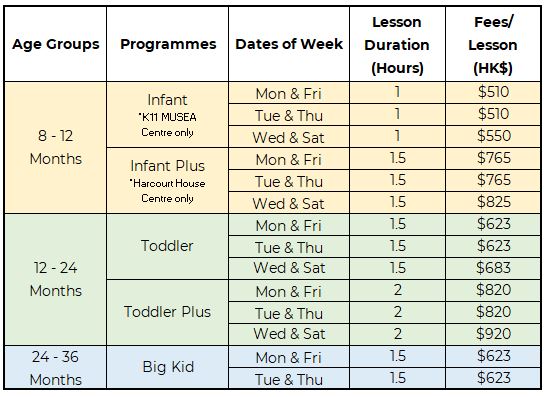 A monthly fee will be charged according to the number of sessions available each month.
For class timetable for each centre, please click on Class Schedule.
Will Victoria Playpark students be afforded priority admission to Victoria Educational Organisation (VEO) Pre-Nursery or Kindergartens?
All applicants must follow the same required admission procedures. We do not guarantee admission into VEO kindergartens. This said, Victoria Playpark follows the same inquiry-based, trilingual learning philosophy that forms the core of Victoria Educational Organisation. Children enrolled in classes at Victoria Playpark will feel comfortable with the VEO kindergarten learning experience.
Is there any difference between Victoria Playpark and Victoria Educational Organisation's playgroups?
Both Victoria Playpark and VEO playgroups are members of Victoria Educational Organisation and share the same educational mission and philosophy. Our trilingual playgroup programmes are led by experienced, professional educators. While all centres provide a comfortable, engaging and safe environment for children, Victoria Playpark strives to merge the boundary between indoor play area and outdoor natural play areas. Please refer to the following table for further details about our different playgroups.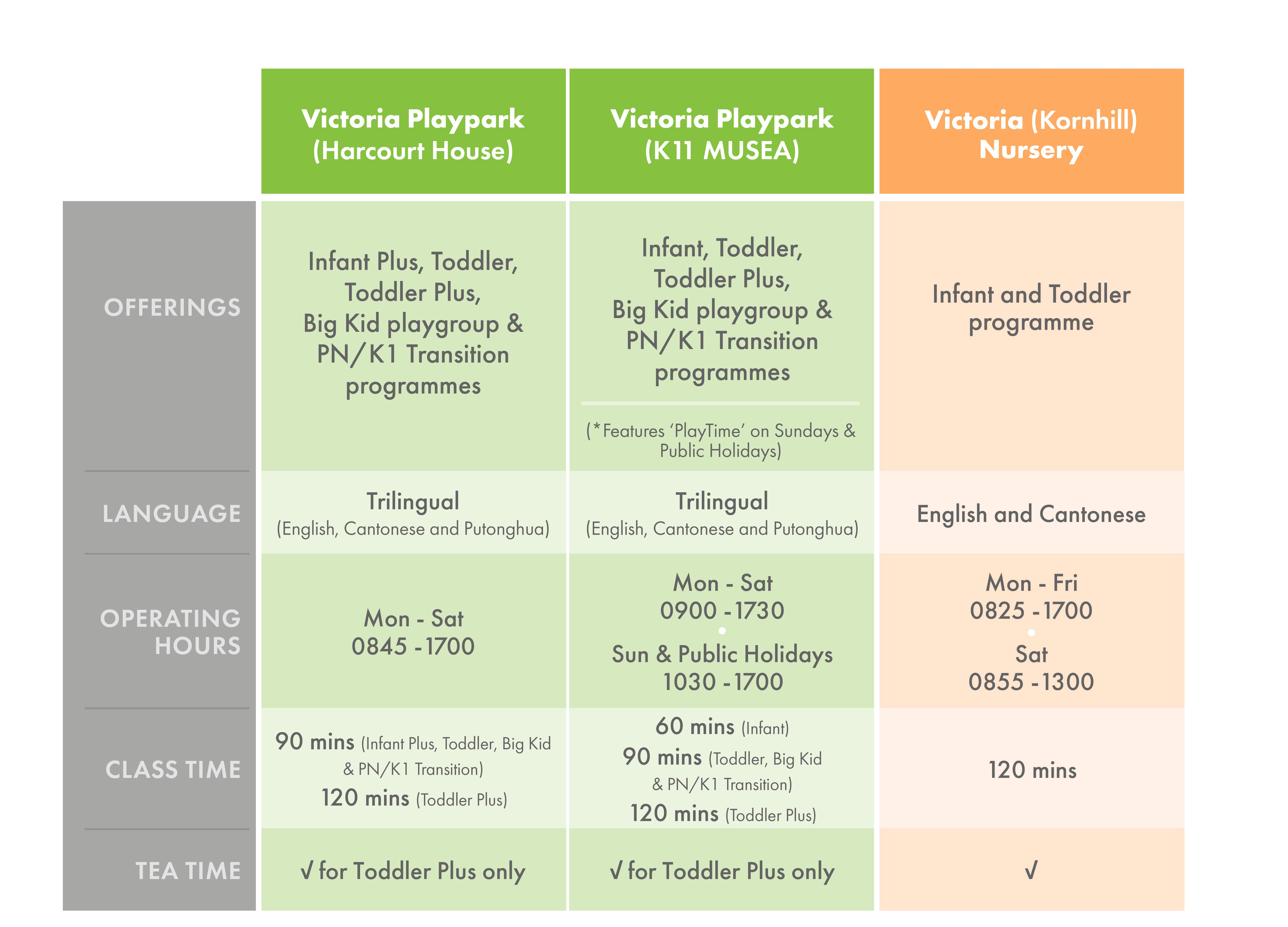 Can my child transfer to a different Victoria Playpark centre?
If your child is currently enrolled in a VEO playgroup and wishes to transfer to Victoria Playpark, please fill in an online application form. If your child is studying at Victoria Playpark Harcourt House centre, and wishes to transfer to K11 MUSEA centre or vice versa, please call the respective centres to speak to one of our staff members about transferring.
PlayTime
How do I book a PlayTime session at K11 MUSEA Centre?
Please click "Enrol Now" to complete an online booking. You can book a session up to three weeks in advance. We recommend you peruse PlayTime's terms and conditions prior to booking.
Is PlayTime open to children of all ages?
PlayTime welcomes children aged 1-5 years old.
What is the PlayTime schedule?
PlayTime sessions are held on Sundays and public holidays at K11 MUSEA centre.
Each session lasts 40 minutes and are held in the following time slots:
11:00 – 13:00
14:00 – 17:00
How much does a PlayTime session cost?
A single PlayTime ticket costs $180*, which covers the entrance of one child and one parent/caregiver. The cost for one child and 2 parents/caregivers is $220*.
*The costs above are subject to change whenever there are special themes.
Do parents need to accompany their children?
Every child must be accompanied by an adult.